2014-06-13 20:28:58
New page:
SEC Arenas
- shows Arkansas' win/loss records and shooting percentages in all current SEC basketball arenas. Page updates itself as new box scores are added.
2013-12-21 21:41:24
Note - changed the "Schedules" link on the top menu bar to say "Seasons."
2013-09-07 09:15:10
Note: changed Louisiana-Lafeyette's name site-wide to Louisiana, the program's preferred name now. Arkansas hosts the Ragin' Cajuns on November 15th, 2013.
Factoid:
Levan Patsatsia
is the most recent ex-Arkansas player to come back and play against Arkansas in Fayetteville. As a senior with his new team,
Troy
, he had 5 points, 7 rebounds, 2 assists, 2 turnovers and 2 fouls in a 75-60 Arkansas win on
12/4/2010
.
---
Random box score:
1/6/1996
@ Auburn
Auburn, AL
L 76-101

---
Who is he?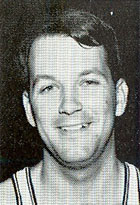 Email: hogstats@gmail.com
---