2015-03-11 20:40:37
New page:
Team SEC Tournament records
2015-03-08 13:19:47
Player stats have been updated and added to all player pages going back through 1957-58. Example - Brandon Dean. Will keep working backward.
2015-01-14 22:18:01
Team and player season stats are now available on Season pages (not all seasons yet, but adding more, working backward). Example: 2011-12 (scroll down)
Factoid:
Future UA coach Eddie Sutton scored 8 points and grabbed 5 rebounds against Arkansas on
3/14/1958
, playing for Oklahoma A&M in the 1958 NCAA Tournament.
---
Random box score:
12/22/2011
Louisiana Tech
Fayetteville, AR
W 77-63

---
Who is he?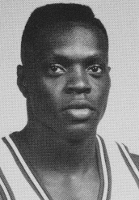 Email: hogstats@gmail.com
---