2017-03-21 17:19:26
Season and career assist:turnover ratio records have been added to the
Assists Records
page.
2017-03-09 06:42:08
Added frequent SEC Tournament locale Bridgestone Arena to the list of Arkansas stats in SEC arenas.
2017-03-03 18:57:16
New pages: individual records for Fouls and Games Played (season and career for both).
Factoid:
SMU
has played against Arkansas more than any other opponent -- 155 times. The Mustangs were UA's first conference (SWC) opponent in Arkansas' inaugral season (1923-24); SMU won in Fayetteville 17-11, setting an Arkansas record that still stands for fewest combined points in a game. The Hogs lead the all-time series 96-59.
---
Random box score:
1/4/1992
Auburn
Fayetteville, AR
W 110-92
First conference game as member of SEC
---
Who is he?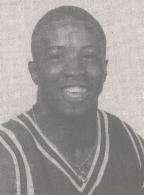 Email: hogstats@gmail.com
---