2015-03-11 20:40:37
New page:
Team SEC Tournament records
2015-03-08 13:19:47
Player stats have been updated and added to all player pages going back through 1957-58. Example - Brandon Dean. Will keep working backward.
2015-01-14 22:18:01
Team and player season stats are now available on Season pages (not all seasons yet, but adding more, working backward). Example: 2011-12 (scroll down)
Factoid:
Arkansas participated in the 1936 U.S. Olympic Playoffs, winning their college district championship. They then advanced to the Olympic Trials in Madison Square Garden but lost to Hollywood Universal, an AAU team, in the first round of 8-team tournament consisting of 5 college district champions, 2 AAU teams and 1 YMCA team.
Some members of the Universal team were eventually selected to represent the U.S. in the '36 Olympics in Berlin, and won Gold after going undefeated.
---
Random box score:
1/25/1986
Southern Cal
Fayetteville, AR
L 74-88
End of Barnhill Arena record 41-game non-conf. W streak
---
Who is he?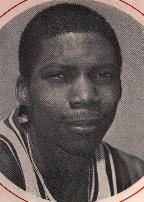 Email: hogstats@gmail.com
---