2013-12-21 21:41:24
Note - changed the "Schedules" link on the top menu bar to say "Seasons."
2013-09-07 09:15:10
Note: changed Louisiana-Lafeyette's name site-wide to Louisiana, the program's preferred name now. Arkansas hosts the Ragin' Cajuns on November 15th, 2013.
2013-03-07 21:12:01
Home, road and neutral site records are now listed on each season's schedule page. Example: 1982-83
Factoid:
The first basketball
letter-winners
at Arkansas, in the 1923-24 season, were Rolla Adams, Clifford Blackburn, Cyrus King, J.C. McGuire, Curtis Parker, Elbert Pickkell and Elza Renfro.
---
Random box score:
12/4/2010
Troy
Fayetteville, AR
W 75-60

---
Who is he?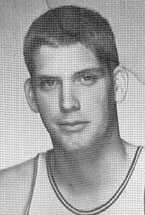 Email: hogstats@gmail.com
---